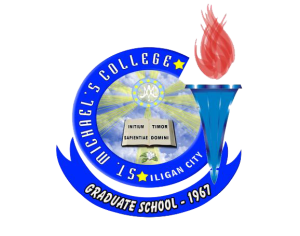 Admission: Graduate School
THE GRADUATE SCHOOL
In this world of rapid globalization, the Graduate School plays a central role in the field of professional development. Professional Development should be at the forefront of student's mind at every stage of the graduate career. Students must make use of this professional development opportunity which would complement their research training and augment skills in their various field of specialization. To this end, St. Michael's College aims to foster first class professionals and teachers who are capable of leadership roles in their respective discipline.
ADMISSION REQUIREMENTS
The minimum requirements for graduate admissions are:
1. A Bachelor's degree from a college or university recognized by the government.
2. An overall Grade Point Average (GPA) of at least 80% in the bachelor's degree program.
3. Satisfactory Performance in the entrance examination and interview conducted by the dean.
4. For a Master in Education, a student must have a bachelor's degree in Education or a closely related field.
5. Transcript of Records for Evaluation and the Honorable dismissal.
APPLICATION AND CREDENTIALS
Students who wish to be admitted to the Graduate School have to submit formal application for admission. Form is available at the Graduate School.
The following credentials have to be submitted before a student can be enrolled:
1. An authenticated copy of the Official Transcript of Records from the previous school.
2. Honorable Dismissal from last attended educational institution.
3. Bio-data with picture and contact number.
4. For submission to the Graduate School:
4.1. Long brown envelope
4.2. 2 pcs. 1×1 colored for I.D. and borrower's card
4.3. 1 pc. 2×2 picture for personal profile
Prospective graduate students are required to submit the pertinent credentials to the Registrar's Office upon enrolment. An allowable limit of one week after the first day of school can be given upon approval of the student's official request to the Registrar Office.
Students' enrolment could only be considered official upon submission of transcript of records and honorable dismissal.
REGISTRATION
Students whose application for admission has been approved and old students continuing their graduate work shall report to the Graduate School Office where they will be guided as to the enrolment procedure. No student is permitted to attend a graduate course for credit until his registration has been certified by the Graduate School Dean and the College Registrar.
Married females whose Transcript of Records still retain their maiden names are required to submit a copy of their marriage contract.
ACADEMIC LOADS
The maximum load of graduate students during a regular semestral term is 12 units for the regular students and 9 units for working students. During summer sessions, the maximum load is 9 units.
CHANGING, ADDING AND DROPPING OF SUBJECTS
These are permitted only within the specific dates allowed as announced. Students are required to bring their assessment slips for verification on the subject(s) they are going to change or drop, subject to approval of the Dean.
Withdrawal of subjects with refund is allowed only within two weeks after the start of classes. Withdrawal should be done officially with the proper form available at the registrar's office.
RETENTION POLICY
A student must maintain a Grade Point Average (GPA) of 85% in major subjects and/or a minimum of 80% in all other subjects.